Financial Hardship and Ability to Pay Your Fine
If you cannot pay the full amount of a fine for an infraction offense (including most traffic tickets), you may ask the Court to reduce the amount you owe based on your ability to pay. You must show proof that you do not have the financial means to pay your fine. You may also ask the Court if you can perform community service, establish a payment plan, or extend the time you need to comply with a court order. You may ask the Court to consider your ability to pay at any point in the process, but you must enter a plea of guilty or no contest before the Court can give you an answer.
The easiest way to request a fine reduction is to use the Court's new online request tool (recommended)
Image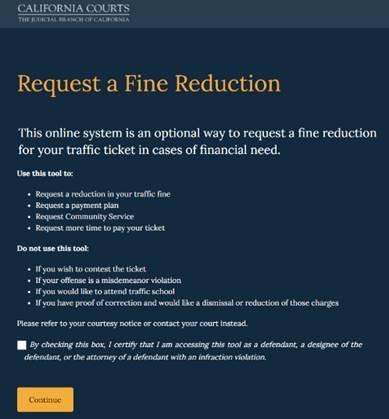 If you cannot use the online tool, you may use the forms below to provide information that should be considered in connection with your request.
Please note that the Court may add an additional fee of $100 to cases where the outstanding debt is $150 or more and where the fine is delinquent. Court users will receive a couple of notifications before the additional fee is added so that they may take action to avoid the imposition of the additional fee. Court users are advised to take immediate action when they receive a notice to avoid additional fees.
There are several ways to avoid additional fees including requesting an ability to pay determination if you cannot afford the original fine amount, asking to perform community service hours in place of the fine, asking for an extension of time to pay or complete community services, and/or asking to make installment payments. Installment payments will be as low as $25 per month if you make your request using the online tool (above). Otherwise, installment payments would be in the amount of at least $40 per month. Please contact the clerk's office at 831-420-2200 or by sending an email to traffic.information@santacruzcourt.org if you have questions.
Showing Good Cause for Outstanding Debt
Individuals with cases in Collections for failing to appear for court with good cause reasons (incarceration, hospitalization, active-duty military, incapacitation, etc.) may ask the Court to remove additional fees by completing the following forms:
Forms need to be filed with the Criminal and Traffic Clerk's Office at 701 Ocean Street, Room 120 in Santa Cruz either in person or by mail.
If your case is currently in collections and you cannot afford to pay your debt, you may use the link to for the online tool listed in the previous section. You cannot use the online tool for misdemeanor cases and must submit the above forms to the Clerk's office.